Manufacturer of armored glass for cars in Ukraine –
"Citius S"
For armored VIP vehicles
For Cash In Transit Vehicles
For any car custom-made
Bulletproof glass for banks and cash registers
Certified production of bulletproof auto glass. Work experience – 30 years.
We work throughout Ukraine and for export.
Fast execution of orders. Production time under the order – from 3 to 7 days. When ordering glass without delivering a car to us – 7-10 days.
All types of products are guaranteed for 24 months.
We produce armored glass for:
Mercedes Benz Geländewagen; Toyota Land Cruiser 200; Lexus LX 570; Mercedes Benz GLS; Mercedes-Benz G 500; Mercedes-Benz G W463; Range Rover; Volkswagen Amarok; Chevrolet Tahoe / Suburban
Mercedes-Benz S W221-222; AUDI A8; BMW 760; Skoda Superb
Mercedes Benz Vito / Viano; Volkswagen Multivan / Transporter; Chevrolet Express
Heavy-duty trucks
Vehicles capable to carry the weight of armor
Examples of our work:
Bulletproof glass for VIP cars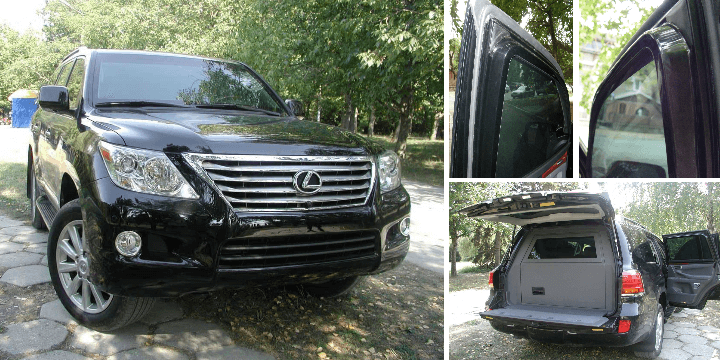 Bulletproof glass for Cash In Transit Vehicles
Bulletproof glass for banks and cash registers

Our advantages::
quality – our bulletproof glass does not create optical distortion, does not fog up in winter
speed of order execution from 3 days
warranty – 24 months
service – we provide installation, replacement and repair of armored glasses
lower weight of bulletproof glasses with the same protection parameters
The cost of bulletproof glasses depends on the car model, area and level of bullet resistance.
Our pricing policy is a combination of quality and reasonable cost
How to buy bulletproof glass for a car?
Приобрести пуленепробиваемое стекло для любой модели автомобиля можно по цене завода, обратившись к нашим менеджерам.
Production and office are located in Melitopol – Ukraine, Zaporozhye region.
We work all over Ukraine. It is possible to send by delivery service, repair, install and replace bulletproof glasses by mobile team at the customer's place.
It is also possible to deliver your car to Melitopol by our auto transporters for complex armoring or repair of bulletproof glasses.
You may be interested in armored vehicles manufactured by our company: