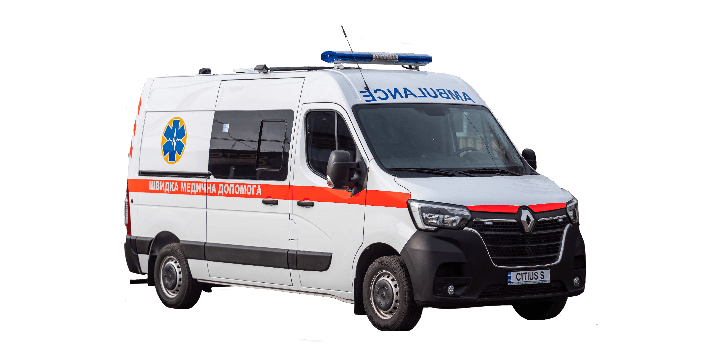 Production and sale in Ukraine – 
"Citius S"
All cars are certified according to DSTU 7032: 2009. We have been prodused of special vehicles for 30 years.
We work all over Ukraine and for export.
Our products are distinguished by high reliability, safety, increased comfort for the medical team and patients.
Fast execution of orders. Production time under the order –  20 days.
Product warranty – 24 months.
The cars are equipped with medical equipment for carrying out resuscitation measures directly in the car.You can choose the following base chassis
You can choose the following base chassis:
Renault Master
Mercedes Sprinter
Volkswagen Crafter
Ford Transit
Peugeot Boxer
Citroen Jumper
Iveco 4×2 or 4×4 all-wheel drive
Complete set with medical equipment::
five types of stretchers (wheel stretchers, portable stretchers with head fixation, pneumatic stretchers, chair stretchers, frameless stretchers)
electrocardiograph
portable apparatus of artificial lungs ventilation
medical aspirator
syringe pump
neck brace,
set of fixation splints for limbs
Pulse oximeter
glucometer
defibrillator
patient monitor BM1600
oxygen tanks
Base cars are transformed in Melitopol on the basis of the Melitopol plant of special vehicles "Citius S", where the base vehicle is additionally equipped with:
autonomous power supply system 220 volts
air conditioning and interior heater
signal beam, siren, loudspeaker
interior glazing – tinted triplex
plastic furniture to accommodate medical equipment
seats for the medical team and attendants
additional noise and heat insulation
external simbols according to DSTU 7032: 2009
Our advantages:
quality – vehicles of world's leading brands with a guarantee and high-quality transformation
speed – transformation in 20 days
warranty – 24 months
service – an official guarantee from Renault, Volkswagen, Mercedes. A mobile team from Citius S works throughout Ukraine.
The price of a ambulance  – depending on the brand of the base car and the level of medical equipment.
Our pricing policy is a combination of quality and reasonable cost
Hoy to by ambulance tipe C in Ukraine?
To purchase without intermediaries at the price of the factory, contact our managers.
Production and office are located in Melitopol – Zaporozhye region.
We work all over Ukraine. Delivery of car by our auto transporters is possible.
Examples of our work:
Standard ambulance Tipe C based on Renault Master
Ambulance Tipe C based on
 

Mercedes Sprinter
Customized branded reanimobile for a private clinic
You may also be interested in: